Epic-Rep Presents
Starring the best in regional and national comedians!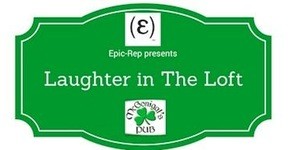 Saturday, August 27, 2016 from 8:00 PM – 10:00 PM
At
McGonigal's Pub 105 S Cook St,
Barrington, IL 60010Join your host
Tim Benker as he welcomes Hannah Stanley and John Dacosse to the stage for a hilarious night of comedy!
Epic-Rep represents Comedy in the Loft with John DaCosse from WGN as the host
Get tickets early as it's sure to be a sell out!
For questions or more information contact us at
info@epic-rep.com or 646-226-7207
Tickets are $20 in advance and $25 at the door!

Seating is limited and reservations are suggested.